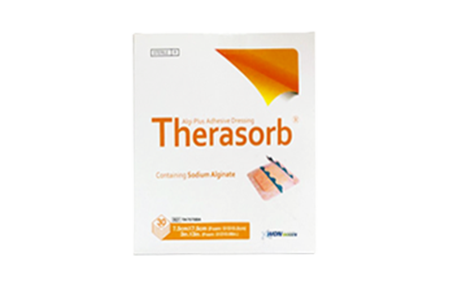 Therasorb Algi Adhesive
Product classification

Medical supplies

standard

7.5cm x 7.5cm x 0.2cm / 9cm x 15cm x 0.2cm
9cm x 20cm x 0.2cm / 9cm x 25cm x 0.2cm
9cm x 30cm x 0.2cm / 9cm x 35cm x 0.2cm
14cm x 14cm x 0.5cm
Appearance

This material is a light yellow or translucent or transparent waterproof polyurethane film coated on one side with an adhesive, It is a rectangular, square, octagonal or clover type dressing material with light yellow or milky hydrophilic polyurethane foam attached.


Efficacy·Effect

Absorption and protection of wounds, lesions, etc.


Product Feature

- It is a one-piece dressing material that is composed of thin and transparent thin film adhesive film and polyurethane foam containing alginate for ease of use.
- Can be fixed without secondary dressing.
- Excellent adhesive force and easy to move after attaching.
- It is excellent in waterproof property and prevents secondary infection from bacteria causing infection.



Precautions for use

[Prohibition]
Caution should be exercised when using this quasi-drug in combination with oxidizing agents such as Hydrochlorite solution (Eusol etc.) or hydrogen peroxide water, since the foamable filler may be destroyed.

[Notes and warnings]
- This product is prohibited to use for medical purposes and other purposes.
- Since this product is sterilized, pay attention to the contamination of the contact area of the affected area and use immediately after opening.
- In case of severe bleeding, use sterilized gauze or teraflop for hemostasis.
- If you have an allergic reaction or have irritable skin or skin disease, be sure to follow the directions of your doctor and pharmacist.
- If the wound does not heal, or enlargement, edema, pain, bleeding or odor is increased, consult a healthcare professional immediately.
- Therasorb Algi Plus Adhesive Dressing is disposable and should not be re-sterilized.


How to Storage

- Avoid high temperature and high humidity and store at room temperature (1 ~ 30 C).
- Avoid direct sunlight and store in a clean place.
목록