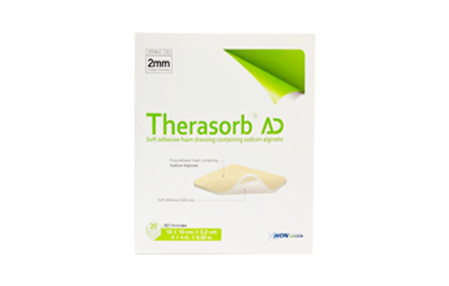 Therasorb AD
Product classification

Medical supplies

standard

10cm x 10cm x 0.2cm / 10cm x 20cm x 0.2cm
20cm x 20cm x 0.2cm / 30cm x 55cm x 0.2cm
Appearance

A yellowish brown polyurethane film, a pale yellow or milky hydrophilic polyurethane foam and a perforated translucent polyurethane film with an adhesive substance

Efficacy·Effect

Used for dressing of lower leg ulcers, pressure ulcers and surgical wounds. (A peripheral wound is a wound such as abrasions, burns, bruises, surgical windows, and pressure ulcers.)


Product Feature

- It is self-adhesive dressing material which soft silicone adhesive is applied to polyurethane foam containing alginate ingredient and it is easy to use and provides a proper wetting environment to the wound area to quickly heal wounds.
- Can be fixed without secondary dressing.
- When dressing is removed or replaced, it gently drops from the wound area and minimizes patients pain.
- Adhesion is maintained even after absorbing the exudates, and proper mechanical properties are maintained.
- Soft silicon adhesive surface is perforated at regular interval by applying patented perforation technology and does not interfere with absorption of exudate.


Precautions for use

[Prohibition]
Caution should be exercised when using this quasi-drug in combination with oxidizing agents such as Hydrochlorite solution (Eusol etc.) or hydrogen peroxide water, since the foamable filler may be destroyed.

[Notes and warnings]
- This product is prohibited to use for medical purposes and other purposes.
- Since this product is sterilized, pay attention to the contamination of the contact area of the affected area and use immediately after opening.
- In case of severe bleeding, use sterilized gauze or teraflop for hemostasis.
- If you have an allergic reaction or have irritable skin or skin disease, be sure to follow the directions of your doctor and pharmacist.
- If the wound does not heal, or enlargement, edema, pain, bleeding or odor is increased, consult a healthcare professional immediately.

How to Storage

- Avoid high temperature and high humidity and store at room temperature (1 ~ 30 C).
- Avoid direct sunlight and store in a clean place.

Date of use

36 months from date of manufacture
목록