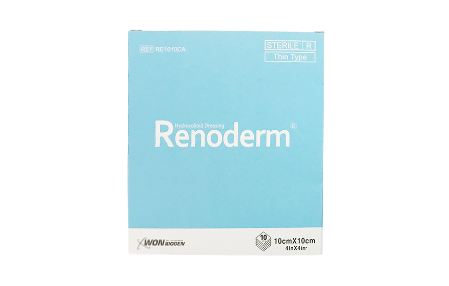 Renoderm
Product classification

Medical supplies

standard

5cm x 7cm / 5cm x 20cm / 10cm x 10cm
15cm x 15cm / 20cm x 20cm
spot 36 / spot 17
Efficacy·Effect

Absorption and protection of wounds, lesions, etc.


Product Feature

- It absorbs exudates from wounds and melts necrotic tissue. It has a characteristic and it helps to restore the wound quickly by maintaining a moisturizing environment that is the optimal environment for regenerating skin for wound healing.
- Excellent self-adhesive power and waterproofing power makes it easy to wash, shower or swim.
- It is good to observe the affected part by transparency. W
- hen the exudate is absorbed, it becomes milky color and it is easy to know the replacement time.

Sheet Type
Precautions for use

[Prohibition]
If you have a wound healing disorder as well as an infection, consult your doctor before use. Not available for infected wounds.
- Signs of infection (severe redness or fever, edema or pain) in the wound
- When wound healing does not start within 4 days

How to Storage

- Avoid high temperature and high humidity and store at room temperature (1 ~ 30 C).
- Avoid direct sunlight and store in a clean place.

Date of use

36 months from date of manufacture
목록