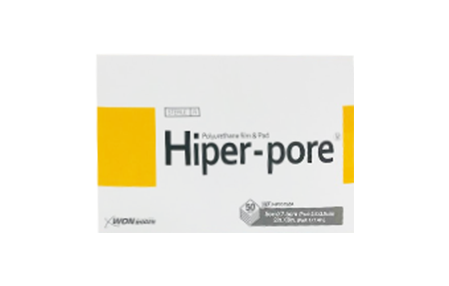 Hiperpore
Product classification

Medical supplies

standard

3.8cm x 5cm / 5cm x 7.5cm / 7.5cm x 10cm
9cm x 15cm / 9cm x 20cm / 9cm x 25cm
9cm x 30cm / 9cm x 35cm
Appearance

It is a disposable sterile bandage with a white non-woven fabric attached to the center of a colorless or translucent synthetic resin film coated with a sticky substance on one side.
Protection of wound, lesion, etc.

Product Feature

- Air permeable, transparent polyurethane film protects water and bacteria and prevents airborne infection by maintaining proper humidity.
- It is a thin and transparent thin film type with excellent adhesive force, so it is easy to move after attaching to wound area.
- The surface of the scratch pad with Polynet does not stick to the wound and the exudation absorbency is excellent.

Precautions for use

[Notes and warnings]
- This product is prohibited to use for medical purposes and other purposes.
- Since this product is sterilized, pay attention to the contamination of the contact area of the affected area and use immediately after opening.
- In case of severe bleeding, use sterilized gauze or teraflop for hemostasis.
- If you have an allergic reaction or have irritable skin or skin disease, be sure to follow the directions of your doctor and pharmacist.
- If the wound does not heal, or enlargement, edema, pain, bleeding or odor is increased, consult a healthcare professional immediately.
- Hiperpores are disposable, so do not use them again.


How to Storage

- Avoid high temperature and high humidity and store at room temperature (1 ~ 30 C).
- Avoid direct sunlight and store in a clean place.

Date of use

36 months from date of manufacture
목록