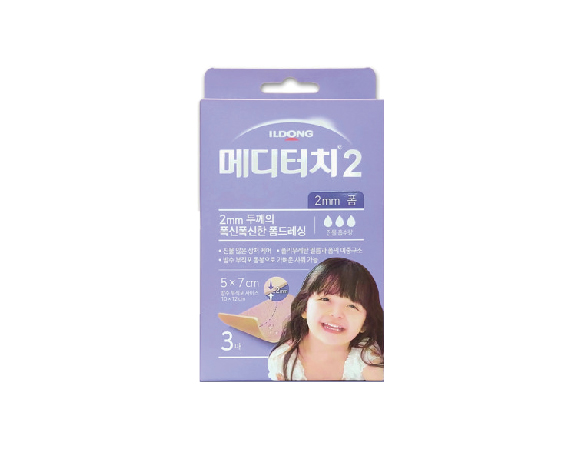 Meditouch 2
Classfication

Quasi-Drug

Size

5 x 7 x 0.2cm (close-fitting cloth : 10 x 12cm)

Efficacy

Absorption and protection of secretions from wounds and affected areas
Usage

Wash the affected area (washing with physiological saline, etc.), attach a pad so that the wound contact layer (light yellow or milky white layer) directly contacts the affected area, cut the attached support to the size, remove the backing paper, and generate tension Make sure not to do it and attach it to the pad. If the exudate is excessively absorbed, change the dressing.

Precautions

When using the pad with an oxidizing agent such as hydrochlorite solution (Eusol, etc.) or hydrogen peroxide, be careful as the foaming filler may be destroyed.

Attach the support after confirming that there is no foreign substance in the attachment site, and immediately stop using it if skin hypersensitivity symptoms appear. Avoid direct sunlight and store in a dry, cool place.

Exp. Date

3 years from date of manufacture

Storage

Store at room temperature (1~30℃), airtight container
목록